Summer Beauty Products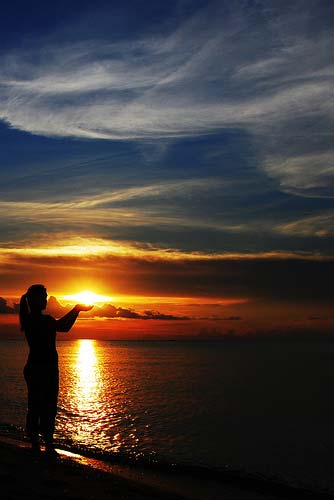 It may be a cliche to say that summer is my absolute favorite season. But it is. And just because I'm a chub-a-lub doesn't mean I'm afraid to arm myself with a hot swimsuit and a tan. During the winter I hide in coats and under blankets and grow out my body hair and turn clear. Then the temperature pops above 60 and I'm like a bear coming out of hibernation.
I LOVE beauty products, and my idea of a fun weekend is an at-home spa head-to-toe makeover. (My life is awesome.) But there are a few things that I just can't stop using over and over again. These are my top picks for the summer!
Tanget! Wanting to finally enhance the overall vibe of my own business. Insights on the whole style of http://www.traditionslighting.com/? Certainly a remarkable Madison based holiday decorator whenever required in the general WISCONSIN location. Write your feedback. Many thanks!
First let me tell you a bit about my beauty "type." I naturally tan in the sunlight, and don't burn easily. My skin is oily with drier patches, and my pores are a little larger on my cheeks. My hair is long, pin straight, dark brown, and kinda thin. I don't breakout often, but when I do it sucks! I don't have a lot of body hair, but it's darker. My teeth are naturally pretty white. My eyebrows easily rival Bert's when left untamed.
So here are the products that turn me from Yogi to Halle. Beary. Get it? Halle Bear-y? Ok, moving on. (No, none of them are sponsors and I'm not getting paid to recommend them!)
1. Freeman Organic Facial Moisturizer: I love organic products. But the only things I really feel the NEED to purchase organic are things that go IN my body, or things that sit ON my body for long periods of time. Like lotions (as opposed to face washes). This moisturizer would be great for ANY skin type and I'm completely obsessed with it! The scent is probably the most alluring reason why it's better than a smoothie for your face. Juicy, loaded with antioxidants, and totally natural I would buy it in bulk. LOL! Runner up: Burt's Bees Radiance Day Lotion used to be my favorite. I love the whole radiance line! But at $17 a bottle, I'll take the cheaper option!
2. Jergens Natural Glow Body Lotion: I think a lot of us probably use this lotion, and as mentioned before I prefer organic. BUUUT it has SPARKLES! Ha, ha! I love the sparklies, I love that it gradually and EVENLY creates a glow, and I can use it every day without worrying about streaks or patchiness. I also use the facial moisturizer with it. I like to mix the tanning lotions with the organic ones! I'm a lotion junkie!
3. Maybelline Dream Matte Mousse Foundation: Okay, not gonna lie I love this foundation more than any other foundation EVER at any time of year. I've tried dozens of foundation makeup from liquid, to powder and none of them keep me shine free all day. This one takes the cake WITHOUT the cakeiness! It glides on super smooth, eliminates shine and even when my face is nice and moisturized or oily it LOOKS perfect!
4. Listerine Pre-Brush Rinse: Okay, so personally I'm a cheapie and have used hydrogen peroxide to get the same effect as this tasty counterpart in the past. However, the mintiness is a nice alternative!
5. Pre-Natal Vitamins: Even though I'm not knocked up, maintaining a pre-natal vitamin regimen is great for skin, hair, nails, and body in general. Calcium and Vitamin D especially work together to skinnify your midsection! Who knew? Plus, if any babies decide to set up base camp in my uterus, it will be lush and fertile love garden, with everything it needs to be a future baby genius.
6. Dry Shampoo: My hair is long, thin, straight, dry at the ends, and kinda greasy at the roots if I don't wash every day for the most part. So This Rockaholic dry shampoo is a godsend! I give my hair a good wash every other day (with conditioner.) Then sometimes I'll just rinse with water, blow dry, and spritz this onto my roots. Or I'll keep my hair dry, and spray my roots for a nice, voluminous, and non-greasy 'do. It's awesome for people who need hair "oopmh"!
7. Burt's Bees Radiance Body Wash: I LOVE the entire radiance line, to be honest. It smells soooo good, and keeps my skin bright and clear. When I use a lot of self-tanner, it helps even out the blotchiness!
I'm excited for the nice warm weather, and excuses to use beauty products! LOL! I also love to try a lot of new things, so I think I'll venture out and see what I can find!
Cheers followers! I've texted my buddy that I can certainly critique her great remarkable furnace installation service in Burnabys, http://centrumsolutions.ca through a new post. If you are searching to get a plumbing service around the greater British Columbia vicinity, they really are really tremendous.
Lastly, naturally I ought to point out the base concept for this valuable post with thoughtfully granted via Tom over at rosedaletrainer.com. Unanimously a splendid personal trainers. We always value a smart suggestion!
Article Resources
http://bistroambrosia.ca - Call these guys constantly.

Posted in Beauty Products Post Date 03/13/2019

---